Recently, SHB Laos organized "Loyal Customer Conference 2017" at Grand Champasak hotel, Pakse district, Lao People's Democratic Republic on the occasion of its 5th anniversary. The event marked an important milestone in the establishment and development of SHB Laos – the first subsidiary bank of SHB overseas.
The event honorably received the participation of Mr. Dao Van Hieu – Consul General of Vietnam to Laos, Mr. Ngo Duc Manh – Vice Chairman of the National Assembly's Committee for External Relations, the National Assembly deputies delegation of Binh Thuan province and 200 loyal customer representatives who have accompanied SHB's development in Laos for the past 5 years such as: Viet Laos Rubber Co. Ltd., Dau Tieng – Viet Lao Rubber Joint Stock Company, Hoang Anh Attapeu Agriculture Development Co. Ltd., etc. and valued individual clients and all leaders and staff of SHB Laos.
Since its official launching 5 years ago, SHB Laos has made continuous efforts to diversify and improve the quality of its products and services so as to respond quickly and promptly to the financial needs of Vietnamese entrepreneurs, enterprises and investors in Lao market, contributing to promote trade between the two countries. "SHB Laos' Loyal Customer Conference 2017" organized on its 5th anniversary showed SHB's deep gratitude towards the support, trust and companion of customers in the past five years and its expectations that the relationship will be increasingly strengthened and tightened in the future. In addition, the event was also a chance for SHB to confirm its connecting role in Lao market. In the event, SHB Laos' loyal customers had enjoyed the unique art space performed by Vietnam's Youth Theater artists.
SHB Laos was formerly a branch of Saigon – Hanoi Commercial Joint Stock Bank (SHB), which was established on 15 August 2012 in Champasak province. Since its establishment and especially after its transformation into a wholly owned subsidiary bank, SHB Laos has increasingly affirmed its reputation, contributing to the socio-economic development of the Lao PDR, boosting trade between Vietnam and Laos as well as enhancing the brand position of SHB in the international arena.
Below are some photos from the event "SHB Laos' Loyal Customer Conference 2017":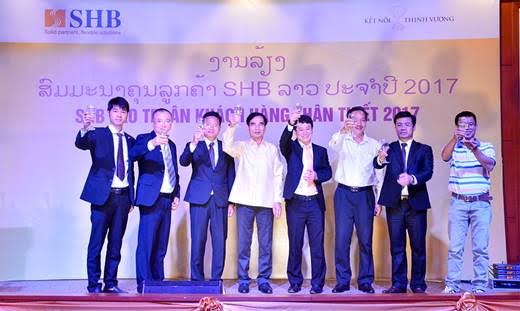 Mr. Dao Van Hieu (white shirt, 4th from left) – Consul General of Vietnam to Southern Laos, Mr. Vu Anh Tuan – Chief Executive Officer of SHB Laos and loyal customers celebrated the achievements of SHB Laos on its 5th anniversary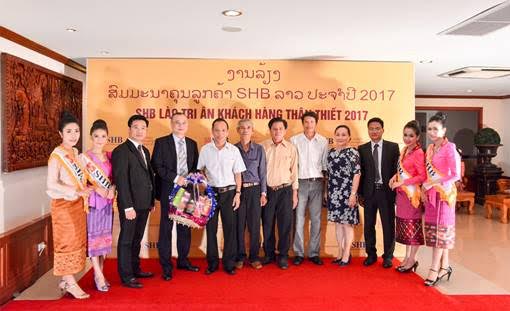 Mr. Huynh Thanh Canh (white shirt, 5th from left) Standing Deputy Secretary of the Provincial Party Committee, head of the National Assembly deputies delegation of Binh Thuan province attended and congratulated SHB Laos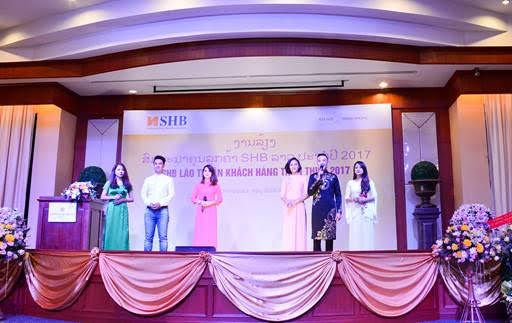 Singing team opened the event with the song "Hanoi – Vientiane" expressing the friendship between Vietnam and Laos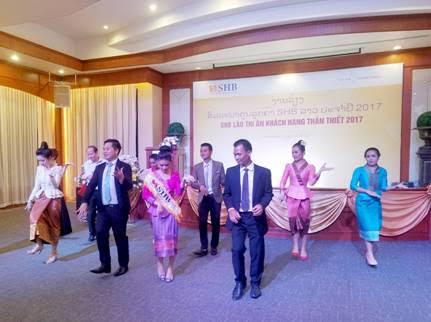 Lam Vong dance on the background of the song "Saj Yai Laos – Vietnam" connected participants in a warm and happy atmosphere.